IMPORTANT UPDATE - 4th Annual Encore Concert Fundraiser
October 07, 2021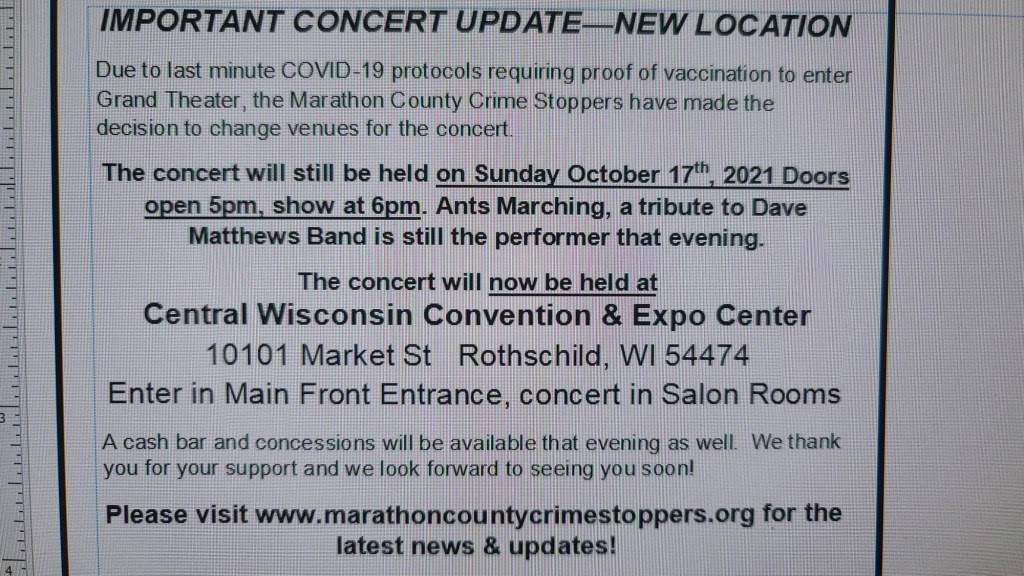 ---
4th Annual Encore Concert Fundraiser
September 21, 2021
Marathon County Crime Stoppers would like to thank you for your ongoing support through our Annual Encore Concert Fundraiser, held every fall. Now is the time to save the date for this year's concert event, which will be held Sunday, October 17th, 2021, at the beautiful Grand Theater in Downtown Wausau! **SEE BELOW FOR AN IMPORTANT VENUE UPDATE
The performer this year is Ants Marching Band, a Tribute to Dave Matthews Band. This concert event is the perfect chance to spend time enjoying great music with your family, friends, Marathon County Crime Stoppers representatives and other members of your community. If you can't make it, tickets are transferrable, or we can donate the tickets back into the community.
Residents and businesses throughout Marathon County will be contacted via phone or mail by Encore Productions within the months prior to the event date. Encore Productions will explain how to donate and how you'll be receiving your concert tickets. If you do not receive a phone call or mail correspondence from Encore, you may also contact a Crime Stoppers Board Member to obtain tickets.
Representatives from Marathon County Crime Stoppers are available to answer all of your questions regarding the Marathon County Crime Stoppers organization, how your donation is used, or to simply verify the legitimacy of event solicitations. You may contact our Crime Stoppers Law Enforcement Coordinator, Detective Kelly Hanousek at 715-261-1423, or any Board of Directors Member.
Please help us as we push toward our goal to Stop, Solve and Prevent Crime in our community by making a donation and spending some time with us at this year's concert!
We hope to see you at this special event!
**IMPORTANT VENUE UPDATE: As of October 12, 2021, the Grand Theater will be enforcing a vaccine or negative PCR test for all attendees. This information was provided to us on October 1, 2021, directly from the Grand Theater and without any prior warning. We are making every effort to negotiate an exemption for this private event. All updates will be provided to you as we receive them. Thank you for your patience during this process.
---
SHOP AMAZON AND AMAZON WILL DONATE
November 15, 2017
Marathon County Crime Stoppers is proud to be a registered organization with the

AmazonSmile Foundation

.
As an Amazon shopper, you can help support Marathon County Crime Stoppers without spending a dime! Simply make your purchases through smile.amazon.com and Amazon will directly donate a portion of your total eligible purchase amount to our organization. (Amazon Smile is Amazon, with access to all the same merchandise, prices and availability.)
Here's how it works:
Click on:

https://smile.amazon.com/ch/39-1723109

Start shopping!

---
CELEBRATING 25 YEARS OF SERVICE
November 15, 2017
The year 2017 marked the 25th Anniversary for Marathon County Crime Stoppers. The organization was established in 1992 and has served the community, helping law enforcement STOP, SOLVE and PREVENT crimes for over 25 years.
Several activities were planned throughout the year.
*In February Crime Stoppers began using a new Crime Tip App, called P3Tips to enhance the anonymous reporting options for tipsters.
*On July 29th Crime Stoppers hosted it first-annual Encore Concert fundraiser (a tribute to Bon Jovi) at the DC Everest High School.
*In September Campus Crime Stoppers was introduced to all participating area schools.
---
NEW REPORTING OPTION
February 23, 2017
P3 Tips Mobile App. Marathon County Crime Stoppers is pleased to announce that we have partnered with Anderson Software, to provide a more seamless and efficient way for citizens and students to offer information to help solve and prevent crimes. The new tip management solution, called P3 Intel, provides a FREE, user friendly, Crime Tip App, called P3Tips mobile app. This new App replaces the text message option previously available to tipsters in our community. Crime Stoppers continues to accept tips via the web and by phone as well.
Still completely anonymous, tips submitted through the P3Tips mobile app, unlike SMS text tips, have no length limitations and allow images, video and documents to be uploaded with the tip. Anderson Software's sophistication encryption processes obscure any and all identifying information and provides assured anonymity for tipsters.
Even without the app, there is still an easy and secure option for submitting tips from any PC or mobile browser by going to p3tips.com or marathoncountycrimestoppers.org. Of course, tips are still welcomed through calling our hotline (877-409-8777). Using whichever method, once a person submits a tip, they will be given a TIP ID and password. With this information they can login at p3tips.com and submit follow-up information, engage in real-time chat/two-way dialogue, be informed of the outcome of the tip, and access any pertinent reward information.
Marathon County Crime Stoppers feels that utilizing the P3Tips program will enhance communications with the public, thereby building a safer and more trusting community in which everyone prospers. To further show our value of tipsters' contribution to the community, tipsters may be eligible for a cash reward of up to $1000.
Crime Stoppers went LIVE with P3 Intel February 27, 2017.
If citizens have information on any crime or criminal activity, they may contact Marathon County Crime Stoppers via any one of these options:
· Tap the App: P3 Tips (Search "P3 Tips" in the Apple Store or Google Play to download the app to your mobile device)
· Type: Submit a tip on-line at www.marathoncountycrimestoppers.org
· Talk: Call 1-877-409-8777.
---